Posted on over 5 years ago by Larry O'Leary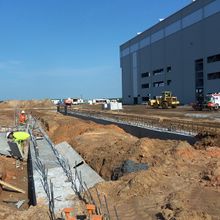 Facilities Project Manager, Associate Director level
Our client, a blue-chip multinational company based in Galway, now seek a Facilities Project Manager who will play a key role in developing and managing the multi-year Facilities Master Plan for the Galway campus.

The role will work closely with the Galway site Leadership Team and Facilities team, Corporate Facilities leadership and external contractor partners. This role offers global visibility within a blue-chip multi-national company and opportunity to progress in either Site, European or Corporate teams.

The ideal candidate will have a proved track record in Facilities Project Management and delivery of large scale construction projects (multi-millions, $$$s), in both construction and client companies.

Responsibilities for Facilities Project Manager:
Coordinate the multi-year facilities master plan for the overall campus and forecasting key space requirements across multiple business services.
Development and coordination of robust capital forecasts across the portfolio of construction projects running concurrently.
Preparation of construction project cost estimates in line with periodic financial forecasts. Coordination of commercial contracts with the key construction service providers; civil, mechanical & electrical utilities and architectural/ engineering design.
Establish an effective program management system that ensures projects are executed successfully (safety, performance, schedule and budget).
Develop an appropriate change management process that ensures all construction variances are approved upfront at the required financial approval level.
Establish and manage project management updates at the various internal & external company leadership stakeholder level.
Lead tender bid analysis with key company stakeholder leads from indirect sourcing, finance and end client organisation.
Routinely research best practises across the Irish construction industry that ensures that the site is realising excellent value in the market place.
Support ad-hoc requirements as needed (examples: Operational strategy development, internal benchmarking, utilisation studies, transportation studies, planning applications, training.

Requirements for Facilities Project Manager:
Honours Bachelor's degree (engineering or business preferred but not mandatory). Chartered Quantity Surveyor certification, Architecture, Engineering Degree qualifications required.
MBA or equivalent masters a plus.
10 years' + experience within construction/ facilities project management
Experience with construction commercial tenders and quantity surveying (QS) costings.
Experience with both construction and client companies preferred.

Please phone Larry on +353 1 2302400 / larry@rftgroup.ie

The RFT Group, BioPharmaceutical Division specialise exclusively in the recruitment of scientists, engineers and executives for the biotechnology, pharmaceutical and medical device sectors. www.rftgroup.ie

Follow us on: Facebook, Linked-in, twitter
Key words: Facilities Engineering, Engineering Management, Construction Management, Start-ups, Project Management, Program Management, Project Planning, Cost Management, Project Engineer, Quantity Surveyor, Strategic Planning, Change Management, Energy, Feasibility Studies, Negotiation, Procurement, Contract Management, Galway, Clare, Mayo, Athlone, Connaught, Ireland.