Posted on over 5 years ago by Larry O'Leary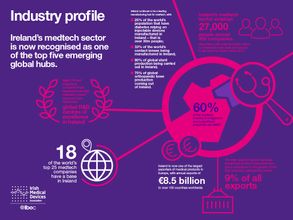 Senior Engineering Manager, NPD & NPI role with cutting edge technology company, in Medtech industry
Our client, a world class engineering company based in Galway, now seeks a suitably experienced Senior Engineering Manager to provide effective leadership across the site, driving strategic programmes for cutting edge technology in Medtech industry and developing a high performing engineering team in this regulated environment.

The scope of this role is wide and varied across engineering areas; NPD/NPI, Process Development, Automation, Calibration, Electrical, Mechanical, Software, Maintenance, with the successful candidate having responsibility for budget their functional area and site wide developmental projects/programs for operations.

The company has a number of incredibly new innovative products coming through development hence it is preferable candidates will have strong experience in developing new technologies and equipment automation solutions, with associated validations.

The ideal candidate will have significant managerial, leadership, and staff developmental experience in a similar role / function, with broad scope of engineering responsibility and technical expertise with world class technology.

This permanent role represents an attractive opportunity for career progression within site and global teams. Remuneration associated with this role is at Associate Director Level.

Please phone Larry on +353 1-2302400 / larry@rftgroup.ie

The RFT Group, BioPharmaceutical Division specialise exclusively in the recruitment of scientists, engineers and executives for the biotechnology, pharmaceutical and medical device sectors. www.rftgroup.ie

Follow us on: Facebook, Linked-in, twitter

Key words: Engineering, process development, workshop set-up, equipment design, machine build, equipment engineer, automation engineer, machine controls, automation, controls engineer, Project Management, Design Engineering, Six Sigma, Galway, Clare, Mayo, Athlone, Connaught, Ireland.