Posted on about 5 years ago by Larry O'Leary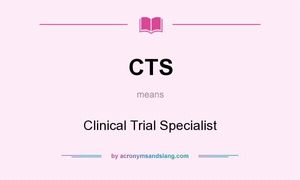 Clinical Trial Specialist
Our client, a global pharmaceutical company with renowned reputation as a market leader in their categories, now seek to appoint a Clinical Trials Specialist for their newly created operating from their Dublin office operating and working as part of a global team.

The successful candidate will support the development and implementation of a global clinical development group and the delivery of clinical projects through development i.e. Phase I – IV.

The ideal candidate will be experience in oversight of CRO interactions from CRA / CTS Study Coordinator perspective, ensuring that clinical trials are conducted in a timely fashion and in a manner compliant with SOPs, ICH/GCP/regulatory guidelines, company goals, and budgets.

Please contact Larry on 01 – 2302400 / larry@rftgroup.ie

The RFT Group, BioPharmaceutical Division specialise exclusively in the recruitment of scientists, engineers and executives for the biotechnology, pharmaceutical and medical device sectors. www.rftgroup.ie

Follow us on Twitter, Facebook and LinkedIn