Posted on about 4 years ago by Laurentina Kennedy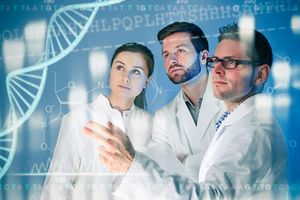 ontent Studio. It is supported by advertisers who may contribute to the report, but who do not have editorial control.
Pharma sector: R&D and special relationship between US and Ireland
Industry, academia and State policies ensure life-sciences research prospers in Ireland
US multinationals in the pharma sector are increasingly carrying out research and development (R&D) in Ireland and can be found collaborating with Science Foundation Ireland research centres and third-level institutions on a wide range of cutting-edge and innovative projects.
This did not happen serendipitously, but rather is the result of canny and concerted efforts by stakeholders in life sciences research in Ireland, including industry, academia and Government.
Alison Campbell is the director of Knowledge Transfer Ireland, the State body working to make it easier for businesses to access publicly funded research. Knowledge Transfer Ireland not only tells organisations where to go and who to talk to but also how to find the expertise that's available. It offers practical tools and resources that help them with that journey once they get here.
Campbell explains that the Irish-US relationship is the envy of other European countries when it comes to innovation in the pharma sector.
"Ireland is seen as really strong in terms of what it's doing to support companies with publicly funded research. When we are looking at the engagement of the US multinationals, we have got quite a holistic approach to this. We are open for business and keen to collaborate," Campbell says.
This success can be attributed to myriad factors such as the range of funding supports offered, as well as the accessible way in which the Irish research system is structured. Surprisingly, this straightforward and helpful approach to uniting industry and academia is something of a rarity in the wider research ecosystem.
Research excellence
"People are telling us that this set-up is fairly unique," admits Campbell. "We think it is particularly helpful because when you think of companies coming from outside of Ireland, having a route in and understanding what that process of engagement looks like and understanding the frameworks under which we operate, the constraints, and the possibilities is incredibly helpful."
The pharmaceutical industry tends to be found "where the research excellence is", she adds. "We know we are doing this right because they are here."
Some of the large multinationals actively engaging with Knowledge Transfer Ireland include international behemoths such as Bayer, Schering-Plough, Janssen, BMS, MSD and Roche.
"We have got all the big players here, interacting with our universities and some of our institutes of technology, working on anything from drug discovery to clinical trials to processing, manufacturing and formulation," she says.
Campbell offers examples of successful open innovation partnerships between industry and academia that have been built over the past decade. "For example, Eli Lilly and UCC, they've been looking at a partnership that focuses on its process development and optimisation of active pharmaceutical ingredients. With this engagement, there are benefits from the organisation in terms of accessing the latest in technology and knowledge, but there are also benefits for the university in that they increase their visibility in cutting-edge research in pharmaceutical synthesis," she explains.
Another example is that of Amber, the SFI Research Centre for Advanced Materials and BioEngineering Research. Led out of Trinity College Dublin, scientists at the research centre have been working closely with Johnson&Johnson. Together they have come up with a collaborative 3D bioprinting laboratory workspace, which is available to both the academics and the company scientists to work in.
Dialogue and partnership
Bristol-Myers Squibb (BMS) Ireland is just one major pharmaceutical company engaged in a number of collaborations with research centres and third-level institutions across Ireland. Mairead Looby, director of manufacturing science and technology at BMS, explains that this practice is in the organisation's best interests.
"We fundamentally believe in creating dialogue and partnership with those involved in education and delivery of science in Ireland in order to drive the development of talent and skills in this sector, to ensure we have a sustainable talent pipeline and can further technical advancements in the future," says Looby.
The drivers behind these many collaborations are multidimensional for Bristol-Myers Squibb, she adds.
"It is well recognised that these partnerships can bolster science capability and provide another dimension of technical leverage. Partnering with experts in their respective fields really enables a diversity of thoughts, experience and enables the application of cutting-edge technologies which truly brings novel insights that help strengthen the productivity of our processes and ultimately delivery of the product to patients."
Looby also praises the fundamental support and the commitment to the advancement of science offered by Enterprise Ireland and Science Foundation Ireland, saying the quality of their research programmes means the agencies are among the highest regarded globally.
"This has been a major attraction for investment in R&D activities into Ireland – Ireland is most definitely seen as the hub of excellence and a leader in this field as our focus on life-science sectors is noted across the world."
Campbell agrees, saying the evidence is there to back this up. "We see this as a win-win for everybody and we are seeing a lot of repeat business which is a testament to how we are doing. The quality of the experience when companies get here encourages them to return year after year."