Allergan, the maker of Botox, is opening a new €160m biologics facility at its campus in Westport in Co Mayo.
Allergan said it will create 63 new jobs at the Westport facility.
The multi billion dollar company is headquartered here and its expansion will allow it to ramp up manufacturing of its flagship products.
The new Westport facility features a microbiology and cell-based laboratory with leading technology and research and development capabilities to support advances in discovery, development and manufacturing.
Allergan recently marked the shipping of the 100 millionth vial of Botox from Westport coinciding with the 30th anniversary of the product first receiving FDA approval.
Allergan employs about 2,000 people in Ireland. It opened its Westport plant on a greenfield IDA site in 1977, with just 25 employees.
Paul Coffey, Vice President Global Manufacturing (Eyecare & Biologics) and site lead at Allergan Westport, said the €160m investment underpins its commitment to advancement in the biologics arena.
He noted that the Westport campus is the largest and most complex in Allergan's global network.
"Our new biologics facility, added to our existing biologics facility, will allow us to meet continued global demand for Allergan's flagship products," he said.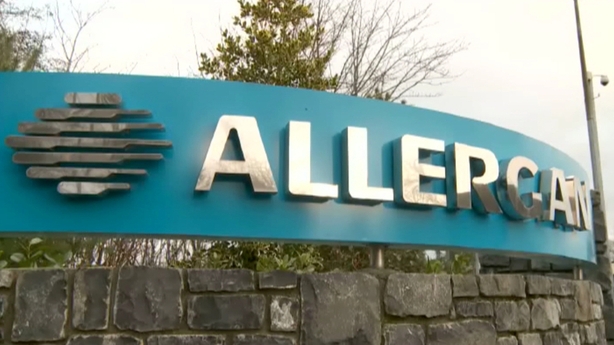 "With the addition of a new microbiology and cell-based laboratory too, the team here in Westport are looking forward to contributing to product innovations that will make a difference to patients' lives all over the world and maintain our position at the forefront of the global biopharma industry," he added.
Martin Shanahan, CEO of IDA Ireland, said this latest expansion by Allergan in Westport is a further, substantial vote of confidence in Ireland by a company that is a global leader in biopharmaceuticals.
"Securing investment for regional locations across Ireland has been, and will remain, a key focus for IDA Ireland and Allergan's success here and its continued commitment to Mayo and Ireland with this additional investment is a clear endorsement for other companies considering investing in Ireland," Mr Shanahan added.
Allergan operates four facilities in Ireland. It has two manufacturing operations at Clonshaugh in Dublin and Westport, Co Mayo, as well as an international supply chain office in Earlsfort Terrace, Dublin and a facility in Galway on foot of the acquisition of Zeltiq in 2017.