Posted on over 3 years ago by Laurentina Kennedy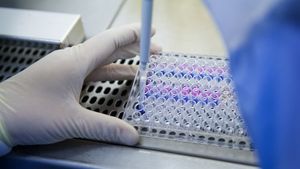 HiberGene test for Covid-19 approved for
market
A NEW test for Covid-19 developed by Irish genomics firm HiberGene Diagnostics has won European regulators' approval for potential sale worldwide.
HiberGene said its as-yet- unnamed product had received the CE certification mark required to show it meets the production standards of the European Economic Area. This follows the test's successful clinical evaluation at the Mater Private Hospital in Dublin.
A spokesman said HiberGene's Sandyford facility has the capacity to make 6,000 units of the tests weekly. It seeks to market the product initially to the Health Service Executive and other domestic providers but is open to exports globally, potentially via its Chinese distribution partner, Medcaptain Medical Technologies.
"The Covid-19 pandemic is the greatest challenge to humanity in our lifetimes," said HiberGene chief executive Seamus Gorman. "HiberGene has responded to this global challenge by leveraging our proprietary technology to accelerate the development of an accurate and reliable test."
He said the test's method for analysing swab DNA could deliver a result within 30 minutes, if the patient has contracted Covid-19, and 60 minutes to confirm no presence of the infection.
HiberGene received funding of €930,000 from Horizon 2020, the EU programme for research and innovation, to develop the test. Mr Gorman called that aid "instrumental in delivering this project".
Business minister Heather Humphreys said bringing HiberGene's product to market would "help Ireland and indeed the world to deal effectively with Covid-19".
Enterprise Ireland CEO Julie Sinnamon said it would advance "the urgent global demand for testing with fast results".