Posted on over 2 years ago by Laurentina Kennedy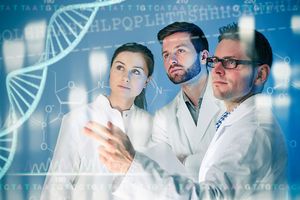 Paul McCabe: Leading BioPharmaChem Ireland at a challenging time
Ireland with €80bn in exports is the third largest exporter of pharmaceuticals globally
Updated: Thu, Jan 21, 2021, 10:41
Paul McCabe, chairman of BioPharmaChem Ireland, the Ibec group that

represents the biopharma and chemical sectors here.
Every sector has been impacted by Covid-19, but the experience of the pharmaceutical industry has been like no other. Not only did the industry have to keep going as an essential service, it also had to apply itself to the development and delivery of new treatments and vaccines at unprecedented speed.
BioPharmaChem Ireland, the Ibec group that represents the biopharma and chemical sectors in Ireland, appointed Paul McCabe, site leader at Alexion Pharmaceuticals, as its chair in March 2020, just as the first national lockdown was beginning.
Despite that challenging start, McCabe believes the outlook for the industry in Ireland is very positive. "I was highly honoured and personally thrilled to become chair of BioPharmaChem Ireland," he says. "It was an interesting and challenging time to be appointed but it's also a really exciting time. I am very passionate about Ireland's position in the global pharma sector and building on that for the future. The BioPharmaChem Ireland team does incredible work. They have built a great network between the multinational pharma companies, the indigenous SMEs, State bodies and the research sector. They use that network to drive the sector and the country forward."
Covid will focus minds on working on new vaccines and improving existing ones
The sector accounts for €80 billion in exports making this country the third largest exporter of pharmaceuticals globally. "Fifteen of the top 20 global pharma companies have operations here in Ireland," McCabe adds. "The sector has invested more than €10 billion over the past 10 years. Currently there are more than 30,000 highly-skilled people directly employed in the sector and we expect to add between 8,000 and 10,000 new jobs over the next five years."
He takes pride in the sector's response to the pandemic. "Life sciences companies were designated as essential services and were role models for others in remaining open safely during the pandemic," he points out. "The industry had to keep producing medicines for patients while implementing global and local restrictions. BioPharmaChem Ireland was really helpful in getting member companies together to share knowledge and experience and to develop protocols. That was shared that back through the Ibec network for use by other sectors."
Vaccines
The industry also played a direct role in the national response to the pandemic. The Covid Alliance, led by a group of biopharma companies and working with academics and individuals in the sector, imported the raw materials for the lysis buffer into the country as reagent shortages held back the State's testing programme. "The industry manufactured enough reagent for 750,000 tests at no charge to the HSE," says McCabe.
BioPharmaChem Ireland launched its five-year strategy in 2019 covering industrial policy, talent challenges, innovation, infrastructure, and the importance of expanding and integrating the entire industry cluster in Ireland.
"We will review the strategy post-Covid to take into account any changes in the landscape. We will continue to inform the Government of the opportunities coming down the line and help Ireland to prepare for that in order to deliver benefits to the economy."
Some of those opportunities will flow from the pandemic and its impact. "The industry has suffered disruption to supply chains and a lack of availability of some products and raw materials. We will see companies looking at their supply chains and de-risking them by bringing production closer to markets. Ireland has a track record going back 60 years in the pharma value chain and there is an opportunity to win some of that production. And then there is the whole area of vaccines. Covid will focus minds on working on new vaccines and improving existing ones. Ireland has a good opportunity there with companies like Pfizer, Johnson & Johnson and Gilead already here. We also have Dublin-based APC which has partnered with Vaxine, an Australian biotech firm, to accelerate the development of a vaccine for coronavirus."
And that's just the beginning. "There are around 7,000 rare diseases but only about 500 treatments for them have been developed and commercialised yet. The advanced therapeutics area is an example of a new market opportunity for Ireland. The global gene therapy market alone will be worth more than $50 billion within the next seven or eight years."
"As chair of BioPharmaChem Ireland I want to continue to support Ireland as a leading place for pharma investment in future and keep our place at the top table globally. I also want to see the sector's significant contribution to the Irish economy continue and grow into the future."