Posted on over 2 years ago by Laurentina Kennedy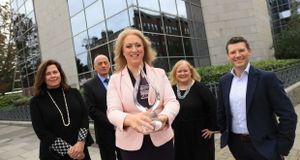 Technology Ireland awards opens for submissions
Previous winners of the overall award include Fenergo, LearnUpon and Keywords
about 9 hours ago
Pictured at the launch of the 29th Annual Technology Ireland Industry Awards L-R: Marie Treacy, Technology Sector Leader and Partner, EY Ireland; David Byrne, Manager, Digital Technologies Department, Enterprise Ireland; Una Fitzpatrick, Director of Technology Ireland; Lorna Martyn, Head of Technology, Fidelity Investments and Chair of Technology Ireland; Jonathan Hyland, Chief Technology Officer, Workhuman.
Ibec-affiliated Technology Ireland has announced the launch of its annual industry awards with a new corporate social responsibility category.
The awards, now in their 29th year, seek to highlight successful entrepreneurship and the diversity of the Irish technology sector.
This year the awards will take place on November 25th and will be streamed online.
Among the ten categories this year are awards for women in technology, outstanding achievement in international growth, tech innovation of the year, tech 4 good initiatives and company of the year.
Last year's overall winner was Fenergo, which recently became the State's latest tech unicorn after reaching a valuation of more than $1 billion after it sold a majority stake in the business to Astorg and Bridgepoint. Other previous winners include Keywords Studios, the Dublin-headquartered but London-listed company that provides a raft of services to the video games industry, and elearning company LearnUpon
Irish software and digital technology companies are urged to submit entries for the awards by October 1st. Entry is free.
"The ongoing pandemic made 2021 another difficult year. Yet, uniquely amongst EU countries, Ireland's economy continued to grow. Much of this success was due to the resilience and innovation of our technology sector," said Technology Ireland Director Una Fitzpatrick.
"We are delighted to celebrate that success through these awards and highlight the technology sector as the engine driving Ireland's economic and social post pandemic recovery," she added.
Technology Ireland awards opens for submissions
Previous winners of the overall award include Fenergo, LearnUpon and Keywords