Posted on 22 days ago by Laurentina Kennedy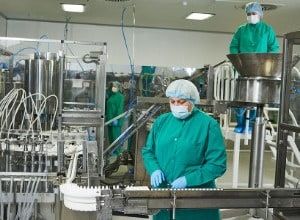 ​
​
​
​
​
Pfizer to cut 100 jobs at Newbridge manufacturing plant
​
​
​Pharmaceutical company Pfizer is to reduce the number of people it employs at its manufacturing plant in Newbridge, Co Kildare by 100.
The move is part of a wider restructuring process arising from a significant drop in demand for its Covid-19 vaccines and treatments.
However, the company is also expanding its workforce at its production plant in Grangecastle, Co Dublin and Ringaskiddy in Cork, adding a further 230 new roles.
It is hoped that some of those who will lose their jobs in Newbridge may be able to take up some of the new positions in Grangecastle.
Pfizer had recently announced that it planned to cut its global costs by $3.5 billion over the next year because of the fall off in sale of its Covid-19 vaccine and Paxlovid anti-viral treatment.
The company said it expects revenues from its Comirnaty vaccine to fall 70% this year compared to 2022 levels due to the easing of the pandemic and sales of Paxlovid are predicted to be down 95%.
Grangecastle is one of a small number of its sites around the world that produced the active ingredient for the vaccine, which was then exported to be made into finished vaccine elsewhere.
While the active ingredient for Paxlovid was produced in a factory in Ringaskiddy, before being made into tablets in Newbridge.
The Ringaskiddy plant is not impacted by the cuts.
"Onsite operations were expanded in 2021 to meet pandemic needs but, considering the lower-than-expected utilization for our Covid-19 products, production is now scaling down in line with customer demand," the company said in a statement.
"As communicated in October, Pfizer has launched an enterprise-wide cost realignment programme to operate more efficiently and effectively."
"We expect to see overall growth in our manufacturing operations through 2024, including an additional 230 roles at our Grange Castle and Ringaskiddy sites."
Pfizer employs around 5,000 people in Ireland across a range of business services, including manufacturing at a number of locations here.
1,200 of those currently work in Newbridge.
A consultation process with staff there around the job cuts is getting underway.
"We will be engaging with our colleagues and their representatives as applicable in relation to the planned changes," Pfizer said.
"Pfizer's manufacturing sites in Ireland play a key role in the manufacture of many of our leading and newest medicines."
"We have invested $9 billion since operations began in 1969 and remain committed to expanding our Grange Castle site as announced in 2022."
It is anticipated that further changes affecting Pfizer's Irish operations will be announced in due course as part of the restructuring, although it is expected that they will have a minimal impact on the workforce here.
"Pfizer does not take these changes lightly," the company said.
"All decisions that impact people, processes and initiatives will be made with transparency, compassion and respect."
"We also remain committed to our patients and will continue to produce our Covid-19 antiviral treatment in Newbridge."
Last year Pfizer announced a €1.2bn investment in Grangecastle resulting in a doubling of its production capacity for biologics and the creation of up to 500 jobs.
Following today's announcement, SIPTU has called on Pfizer management to meet with the union.
It represents almost 700 members at the Co Kildare site, and says the news will be "of huge concern" to the workers, their families and the wider community.
SIPTU also said the proposed redundancies formed part of a "worrying trend" of job losses across the Irish economy.
"This announcement comes on the back of the recent announcement of the proposed closure of Wyeth Nutritionals in Askeaton, Co Limerick, and the actual closure of Cartamundi in Waterford on August 31st," said SIPTU Divisional Organiser, Greg Ennis.
"This worrying trend in closures with job losses in the hundreds, in what had been considered very secure and indeed good employment, is something that the Government must focus on immediately with a view to arresting such decline.
"The loss of these jobs in Newbridge will have a significant economic effect to the detriment of the wider Kildare area and will be of huge concern to our 700 members and their families at the Newbridge facility," he added.
SIPTU Organiser, Robbie Purfield, said the union and its local representatives will be seeking an early meeting with Pfizer management with a view to reducing and, if possible, scrapping the proposed redundancies at the Pfizer facility.​