Posted on over 6 years ago by Larry O'Leary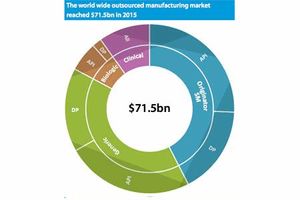 Outsourced Pharmaceutical Manufacturing Grows To $76 Billion
By Louis Garguilo, Chief Editor, Outsourced Pharma
The outsourced manufacturing sector should continue its growth at a clip of 6.6% over the next five years, faster than the projected annual growth rate of the overall pharmaceutical industry (5.5%). That's according to a new report from Results Healthcare, Pharma & Biotech 2017 Review of outsourced manufacturing.
If my numbers based on this report crunch correctly, this rate of growth propelled the total outsourced manufacturing market to just north of $76 billion through 2016. Let's dig deeper into the data and assign some further analysis.
Biologics Vs. Small Molecule: Small Still Much Bigger
A good place to start is with one of the great debates within the outsourcing industry: deciding which segment of the market to focus on – small molecules or biologics. It turns out there's really not much of a debate; both sides should come out as winners.
Despite the current, brighter spotlight shining on biologics (and perhaps biosimilars), small molecules are expected to dominate the market even when projected out to 2021, with a share of 76%. That doesn't, though, cast shadows on the growth of biologics, nor should it dissuade those so inclined to focus on large-molecule services, technologies and facilities. That's because with an overall growth anticipated at 4%, the small-molecule share is in fact contracting, in comparison to biologics and biosimilars.
According to the report, the anticipated percentage growth rate of biologic and biosimilar markets "far exceeds that of the more established small molecule markets," and is "set to increase its total market share from 16.6% in 2015 to 22.2% in 2021. This is facilitated by an anticipated above sector growth of 10.9%."
So we end up with a fast growing and increasingly important sector, but one still garnering less than one quarter of the outsourced manufacturing market as we approach the 2020s. Again, that's certainly enough for biologics-focused CMOs to feel good about themselves, and continue their growth strategies. I'd add that although there are few signs CMO "start-ups" are a burgeoning growth area, the anticipated continued growth in complicated biologics is certainly sufficient for new (or established) contract manufacturers to focus on specific services and capabilities. (More on this in a moment.)
Slicing the market revenue-wise, and not surprisingly, the report says that small-molecule commercial manufacture forms the major part of CMO revenues, at approximately $59.1billion, or 91.8% of total outsourced market revenue in 2015. And again, compared to biologics – or biosimilars – we are looking at a slower but very healthy expected CAGR of 6.4% for small molecules.
On the other side, the biologics CMO market
 was estimated at $5.3 billion in 2015, with the report expecting a CAGR of 8.3%. Even further growth is impacted by "a greater bias for in-house production for biologics amongst the major companies,
 which has hindered outsourcing levels reaching those for
 small molecules."
The important caveat here is that this bias could change dramatically over the next five years. Science, technologies, new platforms and equipment, and even regulatory rulings, could start to propel more outsourcing in this segment. Advancements in all these areas, coupled with societal pressures for lowering drug prices and raising drug choice, could certainly continue to move us to further increases. Moreover, as Outsourced Pharma readers know from these pages, an important brake on growth is Big Pharma/Bio fearing a lack of service-provider capacity for their biologics products.
The report itself deals with some of this: "… significant capacities have been built by CMOs in Asia – Fujifilm Diosynth and Samsung are two examples of investors in biologics capacity. WuXi AppTec has also announced a $120 million investment in an integrated biologics solution centre in Shanghai, China to open in 2017."
Looking at the biosimilars market specifically – an area that sucks up a lot of the air when discussing our industry – though "growing very quickly, is expected to remain a minor part of the pharmaceutical market in 2021." The report attributes this to difficulty in developing biosimilars, "based on the progress to date." According to the report, biosimilars "generally require costly clinical trials to gain market approval, more time and the mastery of using living organisms to produce the API (such as mammalian cells)." I'd only add that the same caveats directly above apply here; things can change relatively quickly.
And what of generics? The report says that while the main constituent of the small-molecule sector is patented and originator medicines (54% of 
the total pharmaceutical market by revenue), it's anticipated 
to be the slowest growing segment at 3.4% CAGR through 2021. Generics, in contrast, "are expected to deliver a 6% growth in the period."
The report adds that although generics are a relatively minor segment, 88% of dispensed drugs by volume are generics. As drug-substance and drug-product supply-chain "utilization and profitability is driven by volume of drugs sold and not market value, the outsourcing sector captures value from the rise in generics. Thus, due to the relatively higher volumes of generics sold, the market has a significant impact."
Little Shopping For One-Stop-Shops?
Do pharmaceutical and biotech customers really want to work with one-stop-shops? Over the years, Outsourced Pharma has found the answer to this question less than straightforward, and not overly convincing for the affirmative. Right off the bat you have to deal with this: Can one company be the best at – or even just good at – such a wide variety of specialized services? Quite a few pharmaceutical executives have answered that in their experience, the answer is no. On the other hand, service providers will tell you their prospective and current customers clamor for more and expanded service offerings.
I'd say the report handles this – perhaps currently the second great debate in drug outsourcing – quite evenly. It starts by mentioning that just last year Lonza announced it was adding capabilities for drug-product development services, as part of a one-stop-shop strategy for its customers. "The trend is evident across the sector," states the report, "which theoretically should benefit both the customer and CMO."
Business practice, though, can beat the pulp out of marketing theory. According to the report, what is clear currently is that the one-stop-shop "is being promoted as a differentiation strategy by the major players rather than there being a clear demand from customers. It is a marketing strategy that does not always reflect how big pharma sources CMO services (clinical supply, DP and API may be allocated to different sourcing agents within big pharma)."
Nonetheless, there are advantages to the one-stop-shop that need not be enumerated here, and at the least service providers need to keep up with new drug categories and development and manufacturing technologies for their clients. "This has led to a number of mergers and expansions into new areas," concludes the report. "As well as differentiation, the strategy can be seen as part of the consolidation trend in the industry."
We'll have to leave that M&A and consolidation discussion for another time; it could become our next great debate in outsourcing … if it hasn't already.