Posted on over 6 years ago by John Reid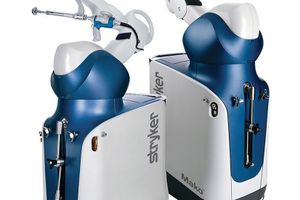 Robot which makes 'more accurate cuts than humans' performs surgery in Edinburgh
Spire Murrayfield private hospital is using the Stryker Mako Robotic Arm to help speed up recovery and reduce patient's pain.
The groundbreaking Stryker Mako Robotic Arm is set to transform hip and knee replacement surgery
A £1million robot is helping perform hip and knee replacements at a Scottish hospital.
The Stryker Mako Robotic Arm can help speed up recovery, cut time spent in hospital and reduce patients' pain.
Spire Murrayfield private hospital in Edinburgh is the first in Scotland to use it.
Consultant orthopaedic surgeon James Patton trained with the machine in Australia and Germany.
It makes more accurate cuts than humans can and allows surgeons to remove only the diseased part of the bone.
And working from 3D scans of the affected area, it matches an implant of exactly the right dimensions to the patient.
Patton said: "Not only does Mako robotics mean I can personalise every operation to suit each patient, it lets me make alterations mid-operation that couldn't be made using traditional surgical methods.
"It is the perfect partnership with technology aiding the surgeon."