Posted on about 5 years ago by Gavin Kennedy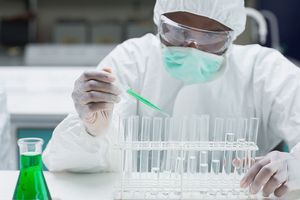 Lead Analytical Chemist ( midlands Ire )
This is a key role in the achievement of business objectives for a Development and Manufacturing facility. The Analytical Laboratory Services Lead Chemist is primarily responsible for successfully executing analytical method development and optimisation in the Laboratory in support of early phase and late phase development projects. You will act as the analytical lead on projects across sites and functions.

The Analytical Laboratory Services Lead Chemist will additionally be a key member of the Quality team responsible for analytical stability, raw materials, in-process and finished product testing ensuring efficient and compliant day to day operations.
The role is central to the Laboratory Services support of broad organisational objectives and development project activities.

Responsibilities:
Apply technical expertise to method development, execution and troubleshooting of analytical techniques (GC, IC, HPLC, Dissolution, Spectroscopic techniques). Laboratory SME for some or all these techniques.
Perform analytical investigations applying best practices for analytical problem solving to support formulation development activities.
Develop new analytical methods to meet business needs. Assess opportunities to optimise/troubleshoot and improve current laboratory methods keeping abreast of current technologies.
Execute testing and certification/ disposition required for artwork, components, raw materials, finished product and stability testing to meet business goals.
Apply skills to solve complex analytical problems.
Prepare CMC analytical sections for MAA applications.
Lead projects within the Laboratory Services group with minimal supervision and take full accountability for project success.
Represent Laboratory Services on global project teams contributing to overall project plans.
Provide input to development projects such that they can be executed effectively and in a compliant fashion. Provide analytical support for development projects as required.
Make strategic proposals for ways to develop the Laboratory Services group (in terms of equipment and resources) to ensure it is optimally placed to offer solutions to the wider organisation.
Independent trouble-shooting within the Laboratory Services Department providing capability in problem-solving in a consistent/ logical manner.
Transfer/validate in-house methods and verification of compendial methods to ensure overall project schedule timelines are met.
Work with Development, Engineering and other functions to ensure a smooth transfer of technologies and products from Development to commercial manufacturing.
Manage contract testing laboratories and sub-projects ensuring cost-effective service as well as adherence to overall schedule, being the key point of contact.
Lead analytical investigations to establish the root cause for atypical, out-of-specification or out-of-trend results. Participate in cross-functional teams for investigations and deviation support.
Plan and implement operational systems to conduct laboratory testing in such a fashion as to control and reduce testing lead times and cost and improve other key indicators (such as reliability, flexibility, quality).
Regular Analysis of data to extract decision making information in support of increasing efficiencies at all levels.
Identify and execute on continuous improvement / operational excellence opportunities as they apply to Laboratory Services.
Laboratory Services signature authority for critical documents.
Organising the periodic calibration and qualification programme for laboratory equipment.
Conduct audits of third-party contract testing service providers.
Monitor, evaluate and resolve issues related to day-to-day activities in coordination with Quality and other site functions to assure performance to schedule.
In close collaboration with the broader team, advocate and implement initiatives in support of a continuous improvement philosophy.
Management of controlled drugs within the laboratory (as required).

Required Education
BSc/MSc in science discipline required

For further information on this Analytical Lead Chemist Laboratory Services position please contact Gavin Kennedy at The RFT Group on 01 2302400 / gavin@rftgroup.ie. Check out all our open jobs on our Recruitment website: www.rftgroup.ie
Follow us on Facebook, Linked-in, Twitter