Posted on over 3 years ago by Laurentina Kennedy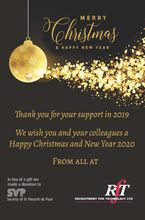 The RFT Group we take pride in telling our customers of the fact that we will not be sending them Cards!
We chose instead to make a donation to our adopted charity The Society for St. Vincent's De Paul.
Best Wishes
Gerry, Laurentina, Larry, John & Gavin.