Posted on over 3 years ago by Laurentina Kennedy Future Research Leaders Awards for three early-career UCD researchers
Posted 9 March, 2020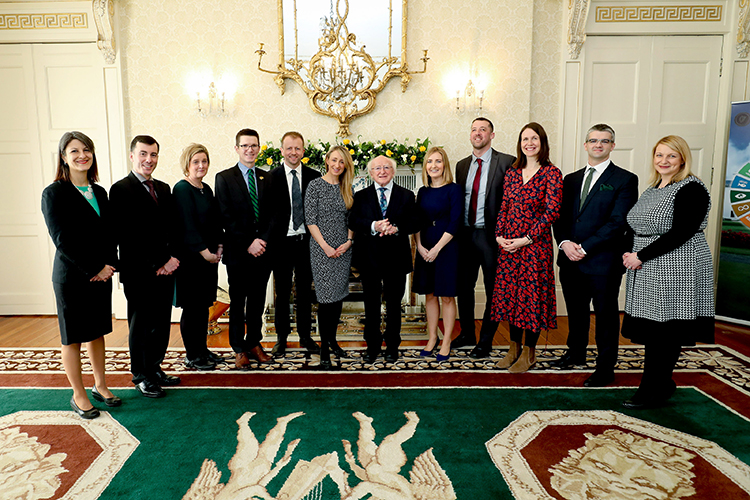 President Michael D. Higgins congratulates Future Research Leader Awardees
Three researchers at University College Dublin have received €4.5m in SFI funding having been announced as recipients of the Future Research Leaders Award.
Associate Professors Stephen Redmond and Rory Johnson, and Assistant professor Sónia Negrão were among ten early-career researchers who were welcomed to Áras an Uachtaráin by Irish President Michael D Higgins to receive their prize.
Speaking on the important role that science has played in empowering people to explore, innovate and collaborate for a better future, President Higgins said each of the recipients of the SFI President of Ireland Future Research Leaders Award had achieved "exceptional accomplishments" in the fields of science and engineering.
The ten awards will each receive a share of a €15m as part of the scheme over the next five years. This funding will support the additional recruitment of 40 research positions, including 18 PhD students, 15 postdocs and seven research assistants.
The fields of research for the UCD awardees include new ways to fight lung cancer, prosthetic limbs that mirror human touch, and climate change impact on barley.
The SFI President of Ireland Future Research Leaders Programme is aimed at recruiting and retaining outstanding and emerging early career research leaders.
Speaking at the announcement, SFI's director of science for society, Dr Ruth Freeman, said: "We are dedicated to supporting research leaders with ideas to drive innovation and assist Ireland and the world in meeting the many challenges we face, from climate change, supporting healthy ageing and understanding the universe."
The UCD Awardees and their research:
Associate Professor Rory Johnson, UCD School of Biology and Environmental Science – SFI funding €1,546,106.
Title: Discovering non-protein-coding vulnerabilities in lung cancer with CRISPR-Cas9
Summary: Lung cancer is one of the greatest single causes of death in Ireland today, but we still lack effective therapies. This project aims to discover new types of genes that promote lung cancer, develop drugs to inhibit their activity, and thereby kill tumours.
The project depends on the latest CRISPR-Cas9 "genome-engineering" technology, which allows one to delete genes from a cell's DNA and thus test thousands of potential drug targets in a single experiment. In summary, this project aims to develop new therapies for lung cancer by applying the latest genomic technologies.
"I believe that this work will make a positive impact on Irish society, by developing new technologies, fostering scientific talent, and advancing towards more effective treatments for disease," said Associate Johnson on receiving the award.
Assistant Professor Sónia Negrão, UCD School of Biology and Environmental Science – SFI funding €1,466,217
Title: Looking into time - how abiotic stress impacts barley production and malting quality
Summary: Barley is the key ingredient for the production of beer and whiskey. Climate change is driving the occurrence of extreme weather events resulting in elevated rainfall that severely adversely affects barley production. These yield reductions will significantly impact the malting industry, with forecasts estimating a sharp rise in beer and whiskey prices.
Modern varieties of barley have lost their protection against such environmental conditions, yet heritage barley has these tolerance features. Here we combine advanced genomic techniques with imaging platforms, using drones and artificial intelligence, to quantify the effects of waterlogging in heritage varieties and secure future barley production.
On receiving the Award, Assistant Professor Sónia Negrão said: "I am extremely thankful for the SFI President of Ireland Future Research Leaders Award as a recognition of my research potential. I am looking forward to contributing to a more sustainable production of barley in Ireland in the face of climate change and strengthening Ireland's international reputation in plant science."
Associate Professor Stephen Redmond, UCD School of Electrical and Electronic Engineering – SFI funding €1,479,655
Title of research: Design of tactile sensors for robotic and prosthetic grippers inspired by human touch
Summary: Prosthetic and robotic hands often drop objects. While we have learned more about the science of how humans feel the slipperiness of an object, there is still much to learn. Given how little we know, it is unsurprising that there are no touch sensors for artificial hands which can practicably sense friction.
This research aims to study how humans feel friction, and subsequently build artificial touch sensors which can do the same. The friction-based tactile sensors developed during this project would endow artificial hands with the ability to feel the slipperiness, significantly advancing the fields of prosthetics and autonomous robotics.
"I feel privileged to receive this prestigious award, which allows me to return home to Ireland to join the excellent and rapidly growing biomedical engineering program at UCD. I will contribute to that growth by establishing a world-leading research group working at the frontiers of tactile physiology, tactile sensor design, and autonomous robotic manipulation," Associate Professor Stephen Redmond said.
By: David Kearns, Digital Journalist / Media Officer, UCD University Relations