Posted on about 3 years ago by Laurentina Kennedy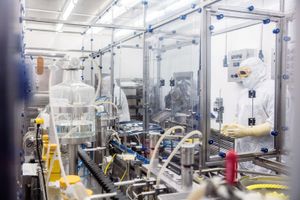 Regeneron announces 400 new jobs in Limerick​
27/08/2020 - 12:40:00Back to Job Announcement Business Home
Taoiseach Micheál Martin has announced 400 new jobs will be created by Regeneron in Co Limerick.
Mr Martin was joined by Tánaiste Leo Varadkar and Mary Executive Director of IDA Ireland, Mary Buckley at the company's plant in Limerick today.
Mr Martin said: "This significant jobs announcement by Regeneron is a further vote of confidence in the skills and talent of our workforce and provides a welcome boost to our economy. Ireland continues to resonate with leading global companies for investment.
"The Government's mission over the coming months and years is to rebuild our society and economy in the post-Covid world. We need to get people back to work and to protect and create sustainable jobs. This announcement is an important and welcome step in that journey."
Regeneron has operations in both Dublin and Limerick, where building commenced for a new laboratory and administrative building last year.
Earlier this year, the company announced that they had reached the milestone of 1,000 employees in its Industrial Operations and Product Supply (IOPS) facility in the county, according to the Irish Examiner.
Executive vice president and general manager of IOPS, Dan Van Plew at Regeneron said: "As this pandemic hit, we needed to quickly change how we do things and where we make our products. In order to make space in our New York facilities to accommodate our Covid-19 efforts, we needed to ramp-up capacity here in Limerick.
"Despite ramping up commercial production sooner than planned, my team hasn't missed a beat. You can only perform like this if you have good people, and Ireland has lots of good people, so we are excited to be hiring 400 more."
The job announcement will be welcomed by worker in Limerick, where there was 8,900 people in receipt of the Pandemic Unemployment Payment as of August 25th.
Elsewhere, Aldi has also announced that they will be creating 80 jobs with the supermarket chain set to open four new stores over the next six months.
Two supermarkets are being added in Dublin, while the remaining two will be built in Wicklow and Meath.
The retailer says it is working to double the number of stores it has in the capital, adding to the 22 it already operates in Dublin.