Posted on over 1 year ago by Laurentina Kennedy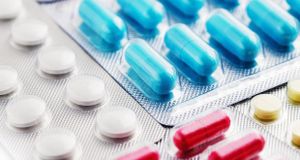 Irish pharma group Amryt reports 15% revenue growth for third quarter
Rare disease specialist says performance was 'strong' in 'extremely busy' period
Irish pharma group Amryt acquired US-headquartered Chiasma in August. Photograph: iStock
Irish pharmaceutical group Amryt has reported 14.6 per cent year-on-year revenue growth in the third quarter, with sales for the period reaching $56.5 million (€48.7 million).
The rare disease specialist said it had seen 21.5 percent year-on-year growth in revenues for metreleptin, known as Myalept or Myalepta, which helps treat complications of leptin deficiency in patents with congenital or acquired generalised lipodystrophy. This drug accounted for $36.3 million of its revenues in the third quarter.
Amryt Pharma chief executive Joe Wiley said the third quarter had been "an extremely busy and productive period" for the group and described its financial results as "strong", noting that they had been achieved despite the challenging circumstances posed by the Covid-19 pandemic.
Results
"These results clearly demonstrate the strong performance of metreleptin in all regions," Mr Wiley said. Amryt affirmed its full-year 2021 revenue guidance of $220 million-$225 million, which would represent 20-23 percent annual growth.
The group has "continued to progress" the regulatory process for the approval of Oleogel-S10 in both the US and Europe. Oleogel-S10 is a potential treatment for junctional and dystrophic epidermolysis bullosa, a rare and distressing genetic skin disorder affecting young children and adults, for which there is currently no approved treatment.
Mr Wiley added that the group had also made significant progress in integrating the operations of US-headquartered Chiasma, which it acquired in August, into Amryt.
The group is "very excited" about the growth opportunities for Chiasma's Mycapssa, the first approved oral therapy for acromegaly, a rare endocrine disorder.