Posted on over 1 year ago by Laurentina Kennedy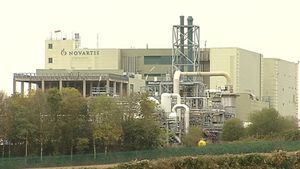 Novartis sells Ringaskiddy plant to Sterling Pharma Solutions
Novartis has sold its manufacturing plant in Ringaskiddy in Cork to global contract development and manufacturing business Sterling Pharma Solutions.
The move will see the plant continue to produce drugs for Novartis, in areas such as oncology, cardiology and immunology under an ongoing supply agreement.
The facility currently employs 400 staff and Sterling said the workforce will "transition" to it under the deal.
It is understood that there will be no immediate impact for those staff.
However, two years ago Novartis announced the consolidation of its manufacturing operations at Ringaskiddy and around half of that program is now complete.
The remainder of the program is to continue, but it is not yet clear whether all the staff will be retained in the long-term.
Sterling will buy the 111-acre site, including three manufacturing buildings, as well as other facilities.
Novartis' Integrated Services, a global centre which provides supply services for the company, is to remain on the campus.
"We are very proud of our colleagues, who have achieved an excellent reputation for high quality, reliable production over the last 27 years," said Maeve Byrne, Novartis Ringaskiddy Ltd's, managing director.
"We are pleased to have secured the continued manufacturing of Novartis medicines in Ringaskiddy by Sterling, as well as to support the sustainability of jobs with significant expertise."
Sterling Phama says it intends to invest in beefing up capacity and production capabilities at the site.
"The addition of this new, world-class facility and its highly skilled workforce, with its history of quality and regulatory excellence, to Sterling's portfolio, will enable us to provide expanded capacity to our customers," said Sterling's chief executive officer, Kevin Cook.
"The site at Ringaskiddy has a number of synergies with our current global facilities enabling us to continue our growth strategy in the small molecule market, as well as extending our capabilities in several key technological areas such as peptide manufacturing and large-scale chromatography."
Novartis recently invested $16m in the plant so that it could make a raw material for a cardiovascular drug.
The price of the deal has not been disclosed, but it is due to be completed in the last three months of this year.
Novartis currently employs 1,500 people in Ireland at three sites in Cork and Dublin.
In the capital the business has its Innovative Medicines Division, the Novartis Global Service Center and Novartis Gene Therapies.
Once the deal is completed, Sterling will own five facilities across the UK, Europe and the US and employ more than 1,000 workers.