Posted on 7 months ago by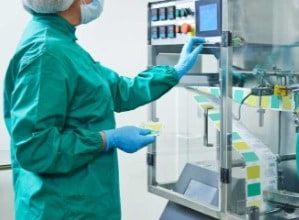 ​
​
​
​
​
US semiconductor group to build €630m Limerick facility and add 600 jobs.
Taoiseach Leo Varadkar hails 'massive' investment of Analog Devices as group moves to triple European capacity​.
US semiconductor manufacturer Analog Devices is to build a new €630 million facility in Co Limerick and add 600 jobs.
The investment at its European regional headquarters in the Raheen Business Park enables the construction of a 45,000sq ft research, development, and manufacturing facility.
The company said the new facility will support its development of next-generation signal processing products designed to accelerate the digital transformation of industrial, automotive, healthcare, and other sectors.
It is expected to triple the group's European wafer production capacity, which are thin slices of semiconductor material used in fabricating integrated circuits.
The company said the investment aligns with its goal of doubling its internal manufacturing capacity to enhance the resiliency of its global supply chain and better serve customer needs.
The new facility is expected to grow the company's employment footprint in the mid-west region of Ireland by 600 new positions, a significant increase on its current 1,500 employees here and 3,100 employees in Europe as a whole.
The announcement comes a year after the company announced a separate investment of €100 million in ADI Catalyst, its 100,000sq ft custom-built facility for innovation and collaboration at its Limerick campus.
Its current Limerick facility has generated more than 1,000 patents since its inception and has seeded research and development sites throughout Europe in Spain, Italy, UK, Romania, and Germany.
"Since 1976, Ireland has been a critical innovation centre for ADI, thanks to its strong academic and research organisations, business ecosystem, and progressive government leadership," said Analog Devices chief executive Vincent Roche.
"Through organic R&D and close collaboration with our customers and ecosystem partners, we are striving to solve some of the world's greatest challenges and enable a more efficient, safer, and sustainable future."
IDA Ireland chief executive Michael Lohan said the technology the group will develop at the facility "is at the very forefront of innovation and has the potential to revolutionise the lives of billions of people across the world".
"This investment is intended to strengthen our supply chain resilience for advanced semiconductor processes," he said.
"This investment will also mean lots of spin-off jobs and contracts for local SMEs and Irish-owned businesses."